'End our neglected borough status' calls Coalition at Legislative Breakfast
Staten Island community coalition calls on State and Federal elected leaders for more investment in the public health workforce, supportive housing for those in recovery, and a fair share of opioid settlement funding.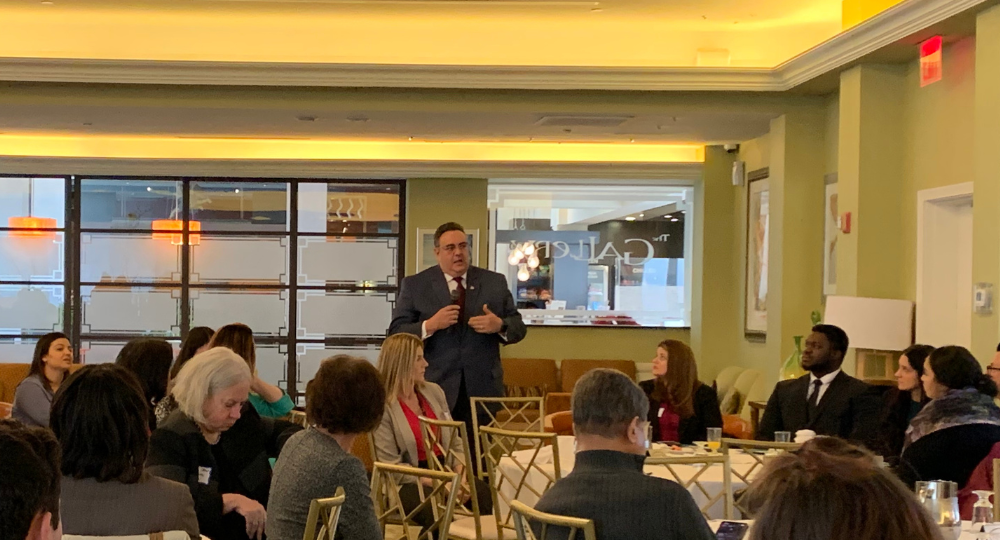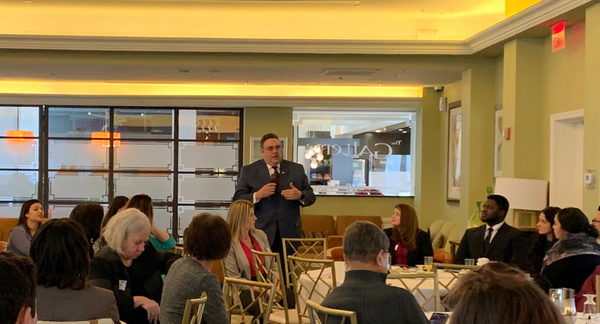 On Friday, February 24, community stakeholders convened a breakfast with elected representatives to advocate for increased support for behavioral health needs on Staten Island. The legislative breakfast at the Hilton Garden Inn was held by the TYSA Coalition. Sponsored by Northfield Bank, the breakfast was attended by Assemblymember Sam Pirozzolo representing Assembly District 63, State Senator Jessica Scarcella-Spanton representing Senate District 23, staff of other state and federal legislators, and the Richmond County District Attorney's Office. The purpose of this breakfast was to advocate for legislative reforms that will strengthen the behavioral health systems on Staten Island and improve the lives of people impacted by an addiction and/or living with a mental illness. "What are you going to do about Staten Island's No. 1 public health problem - Drug Misuse?" asked Luke Nasta, CEO of Camelot Counseling. Nasta issued a challenge to the legislators, "what will you do differently? A business-as-usual approach to gaining control over a deadly epidemic doesn't work. The governor's flat substance use disorder budget is malignant neglect resulting in escalating deaths and a spreading contagion."
In its 11th year, TYSA is a group of professionals, community members, health providers across the continuum, and young people working together to build resilient communities that are better prepared to prevent and respond to addiction and mental health related crises on Staten Island.  TYSA centers equity and inclusion to advance health outcomes for youth and young adults on Staten Island. Plea for the Fifth is an active member organization within the TYSA Coalition.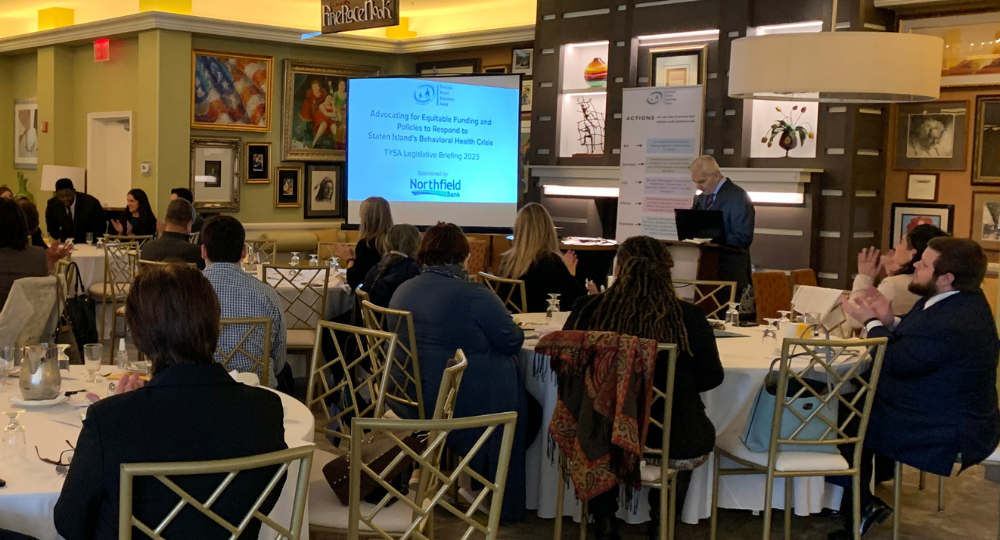 One major point of advocacy at the breakfast drew attention to the fact that Staten Island programs received no dollars from the Opioid Settlement Funding secured for New York City, by New York Attorney General Letitia James from settlements with different manufacturers and distributors of opioids. Mayor Adams' announcement funneled dollars to three city agencies - programs at the Department of Health and Mental Hygiene, the NYC Office of Chief Medical Examiner, but primarily to programs at NYC Health + Hospitals (H+H), and Staten Island does not have an H+H hospital in the borough. "The TYSA coalition finds [the lack of a Staten Island H+H hospital] unacceptable, as many people who are struggling with an opiate addiction do not have the means to travel to another borough to obtain services," said Ashley Owen, Behavioral Health Manager at Staten Island Partnership for Community Wellness, and a coordinator of the TYSA Coalition. As a result, the TYSA coalition called for Staten Island-based programs to receive between 6 and 8% of the total settlement amount, as advocates estimate Staten Islands' opioid overdose deaths account for that amount of total overdose deaths Citywide.
Another major point of advocacy focused on the current workforce shortage in behavioral health programs. Provider's salaries in the human service sector are dependent on the government funding and reimbursement rates from insurances. Both of these funding sources fall extremely short of providing treatment centers with the revenue that they need to hire and retain quality clinicians and staff. According to the U.S. Bureau of Labor Statistics' Consumer Price Index (CPI), which measures the percentage change of prices, there has been a 6.4% increase in expenditures across all categories in the previous 12 months. Despite those increased costs, programs are only funded with the means to offer a 2.5% cost of living adjustment (COLA) raise to staff who were already making low salaries in comparison to the education and experience that they bring. As a result, the TYSA coalition is asking for all programs that offer public substance misuse and mental health services to receive an 8.5% COLA increase and to permanently budget for COLA increases that reflect the CPI measures on cost of living moving forward.
Other points of advocacy focused on the need for more widespread affordable housing, increases in voucher allocations that reflect the high cost of housing, and more money specifically allocated toward affordable housing for people transitioning out of inpatient funding. "39 years ago, when I started Project Hospitality, the City subsidy for a single person to rent a room was $195/month," said Rev. Terry Troia, Executive Director of Project Hospitality. "Today, [the subsidy] is $215 if you become homeless, and enter the homeless system, such as our drop in center in St. George" Troia continued. Increased resources for prevention funding were mentioned, as the amount of funding for prevention services has remained stagnant for 20 years, despite ballooning costs. Several representatives of local treatment and diversion programs provided moving testimonies of how people are struggling to get the help they need.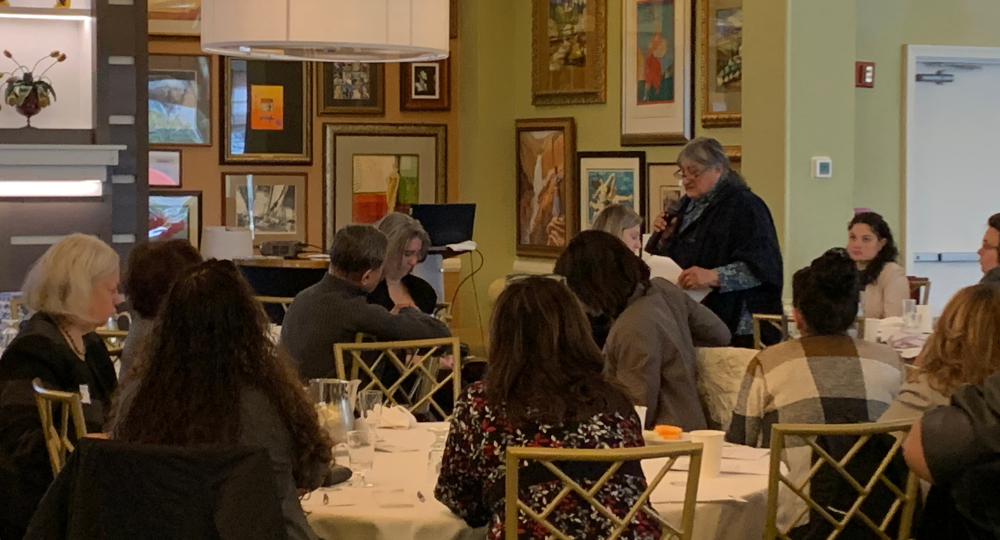 "This event was incredible, not only did I learn new things about the issues faced by our recovery family on Staten Island, I saw every recovery organization come together to advocate for the help people affected by the disease of addiction need," said Andrew Fairley, Project Manager at Project Hospitality, and Chair of the TYSA Continuum of Care Workgroup. Fairley is in recovery, so his involvement provides him personal satisfaction, "it has truly been an honor to witness and participate in this decade-long movement to save lives, heal families, and improve access to recovery services on Staten Island."
Overall, the theme of this event was one of urgency. The advocates who spoke effectively conveyed the importance of addressing these concerns as soon as possible. There was strong cross-sectoral unity regarding what the priorities were for decreasing substance misuse or mental health related deaths on Staten Island. It is the TYSA coalitions' hope that the legislators who were present for this event will use their power to incorporate the advocates' suggestions into future legislation that improves the local behavioral health infrastructure and saves lives.
The annual legislative breakfast was Vincent Lepani's first. Vincent is a Youth Consultant with the Coalition and Chair of the Youth Consultant Workgroup "It was inspiring to hear how our elected officials are all committed to combating drug misuse among Staten Island youth." As Youth Consultant, youth and young adults initiative and lead campaigns around issues including community violence, behavioral health impacts of food insecurity, and vaping. "It's great that TYSA welcomed youth to attend the event, since we are the ones closest to the issue, " Vincent continues, "while it was clear that there is a significant amount of work to do in this area, seeing support from various aspects of our community made me feel hopeful."
The author, Sean Ghazala, is a coordinator with the TYSA Coalition.