City Council D-49 Candidates Forum
Join us on Monday April 19, 2021 as we speak with the candidates vying to represent the North Shore in the city council now represented by the term-limited Councilwoman Debi Rose.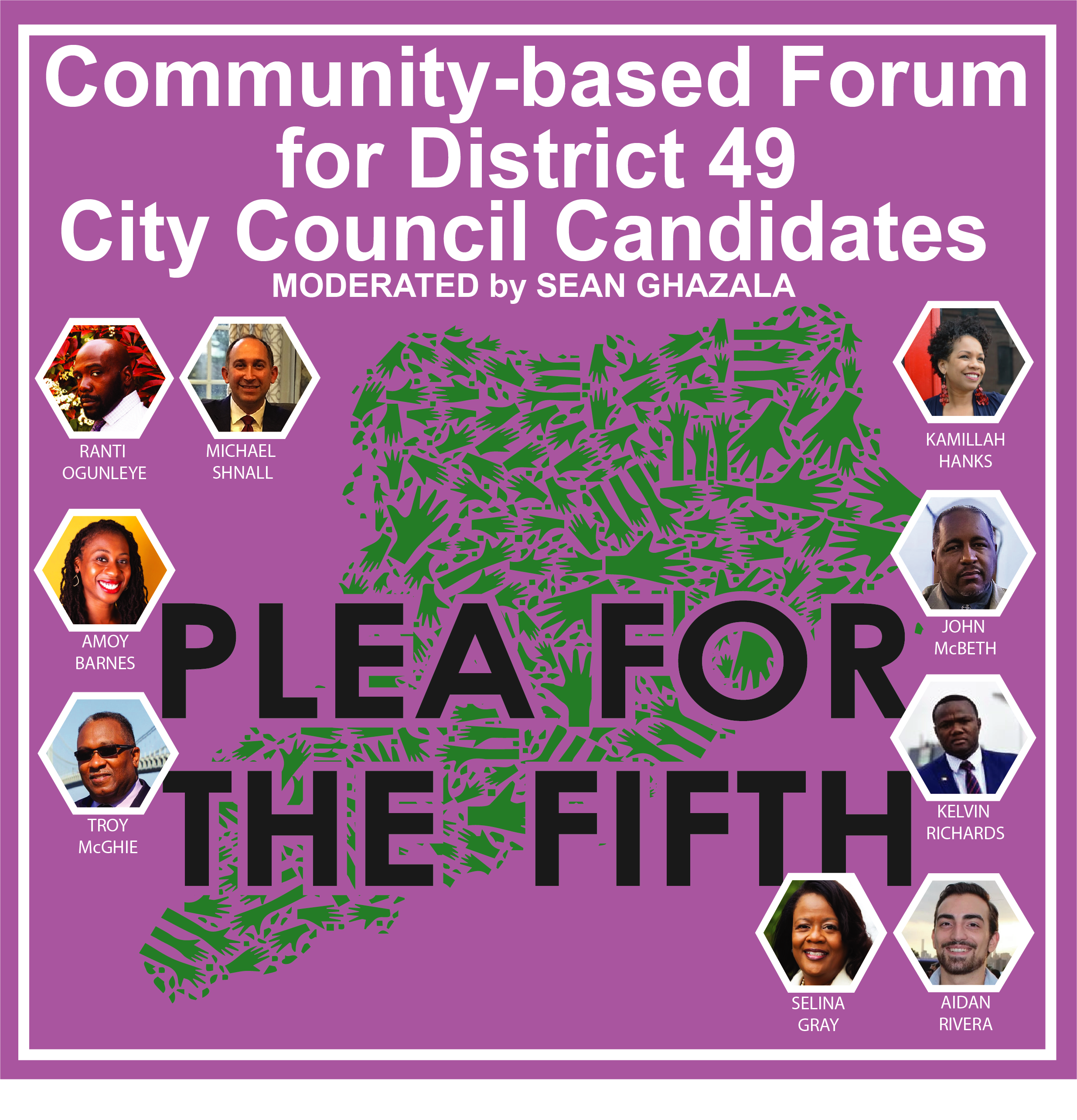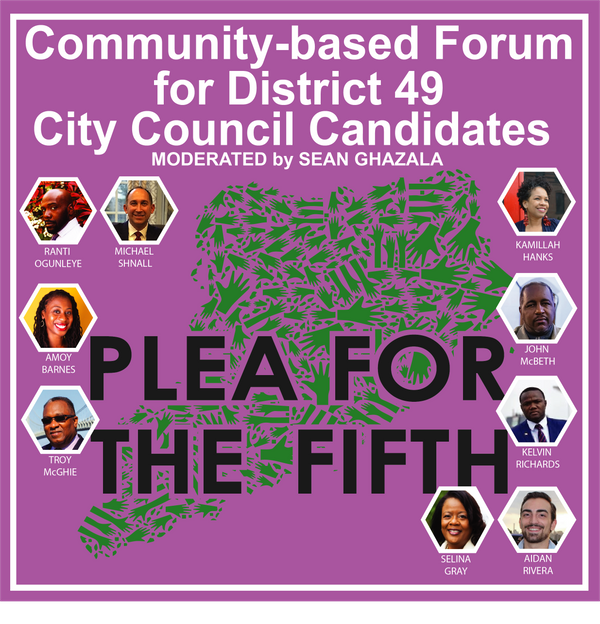 Plea for the Fifth's City Council D-49 Candidates Forum will be held Monday from 7 PM to 9 PM, in a three-part format of short answer, quick fire, and closing with questions from the audience.
Confirmed candidates participating include Amoy Barnes, Selina Grey, Kamillah Hanks, John McBeth, Troy McGhie, Ranti Ogunleye, Kelvin Richards, Aidan Rivera, and Michael Schnall.
The free event will be held via Zoom webinar. I will be moderating. Reserve your ticket on Eventbrite to attend.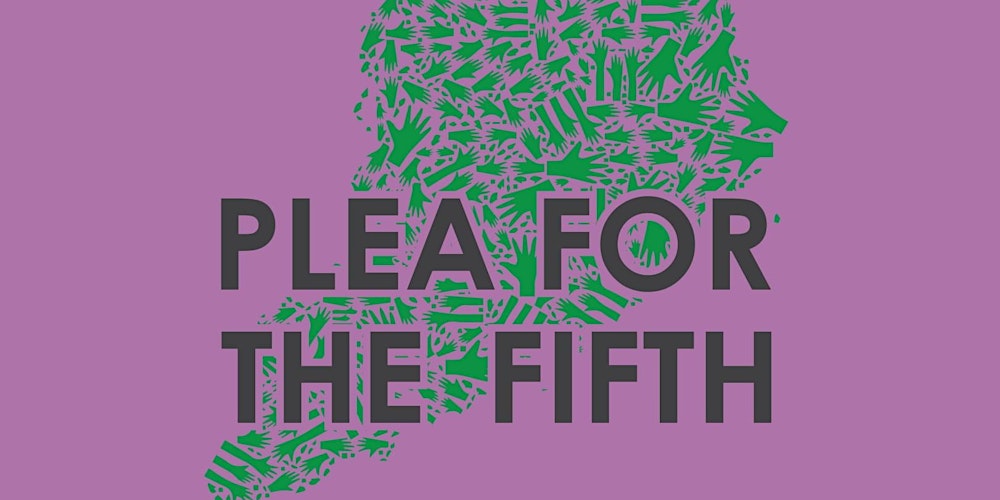 Read below for a brief background on participating candidates who responded to our request in time for publication.
Amoy Barnes
Kamillah Hanks
Ranti Ogunleye
Aidan Rivera
Kelvin Richards
Michael Schnall
Amoy Barnes
Amoy has called Staten Island my home since she was four years old. Her mother, like many before her, took a leap of faith and immigrated with her young daughter to America. She believed in the promise of a better future and the limitless opportunities of the American dream.
After serving at the State, Federal and Municipal level Amoy believes that people deserve: service, transparency and dignity when interacting with government. With an engaged constituency and the right leadership: government can work.
Amoy is a proud member of the: Staten Island Democratic Club, Young Democrats of Staten Island, Staten Island Women Who March, NAACP, Staten Island National Council of Negro Women, and an Alumna Peace Corp volunteer.
Amoy is committed to uplifting the North Shore by supporting small businesses, demanding more accessible Healthcare, promoting community schools and addressing the scarcity of affordable housing. Amoy believes that we deserve state of the art infrastructure and investment; as your City Council Member Amoy will fight tirelessly to secure them.
Amoy's endorsements include:‌‌ UFT, ‌‌CSA, ‌‌WFP, ‌‌DC37, ‌‌Unite Here Local 100‌‌, SEIU 1199, ‌‌21 in 21, ‌‌Women of Color for Progress, ‌‌32BJ, ‌‌Central Labor Council, ‌‌Community Voices Heard, ‌‌Make the Road Action, ‌‌Road to Justice NYC‌‌, CWA District 1, ‌‌CWA Local 1101, ‌‌CWA Local 1102‌‌, AFLCIO - HTC‌‌, NY State Senator Jessica Ramos‌‌, NY State Senator John Liu‌, ‌Jim Owles Club‌‌, & Run For Something.
Kamillah Hanks
Born and raised in Park Hill, Kamillah Hanks is a native Staten Islander and proud mother of four who has been a leader and advocate for positive economic development in the North Shore of Staten Island for nearly two decades. Kamillah attended LaGuardia High School of Music & Performing Arts and studied marketing and finance at the College of Staten Island. Kamillah has over 20 years of experience in both the public and private sectors.
In 2012, Kamillah founded the Historic Tappen Park Community Partnership, where she works with civic leaders, community groups, and local schools to boost cultural and economic development in Stapleton and surrounding neighborhoods. Kamillah pioneered Staten Island's first YouthBuild program, which provides a pathway for out of school, out of work young adults with advanced vocational education, leadership development, job training and valuable life skills. In 2018, YouthBuild Staten Island was one of two organizations in NYC to receive $1.1 million from the U.S. Department of Labor.
For her efforts during the pandemic, Ms. Hanks was awarded with the honor of being named a 2020 Woman of Achievement for creating a training program at the height of the pandemic that produced over 5000 face shields for firefighters, first responders and medical professionals. In August 2020, Kamillah founded the Minority Women in Business Association to advocate for women of color to become MWBE certified and receive government contracts. Her advocacy earned her a place as an honoree for the Young, Gifted and Black Entrepreneurial awards in February of 2021.
As a Council Member, Kamillah will create a master plan that integrates a solid infrastructure and encourages sensible development that benefits the residents of the 49th District, while preserving our rich historic districts and neighborhoods. She will create educational initiatives that build career pathways through union apprentice programs and advocate for truly affordable and quality housing for people earning minimum wage as well as working and middle-class residents.  Kamillah will bring good paying, quality jobs to the district, and provide funding and resources that improve our district's healthcare, transportation, and school systems.
Ranti Ogunleye
Ranti Ogunleye is a dynamic community leader, youth advocate, and educator. Raised in Park Hill and Stapleton by hardworking Nigerian immigrants, Ranti's commitment to helping others was fostered by their values and his early experiences. Ranti is a lifelong member of the North Shore community. Ranti grew up playing at the Cromwell Center and attended Curtis High School, where he eventually became an Educator. At Curtis, he taught our students how to be global citizens and showed them how their struggles were connected to the global ones for economic opportunity, and global peace. Ranti has served his community as the Director of the Urban League on Staten Island, providing resources to our most vulnerable. Ranti has also supported the growth of hundreds of youth as an Adjunct Professor at the College of Staten Island. For over 20 years, he has poured his heart and soul into the North Shore.
But leadership isn't just preparing for the future, it's about protecting our present. At the height of the COVID-19 pandemic, Ranti stood up for the North Shore. As the Cornerstone Director of the Carter Center, Ranti secured thousands of COVID-19 tests. Ranti has worked with our families to make sure they have mental health care, daycare and afterschool programs to get them through the pandemic.
Ranti's commitment to improving the lives of those who have been underserved and had their voices ignored is at the core of who he is. His hand and heart has always been on the pulse of how communities develop and thrive, and he is committed to making certain that all of the North Shore is represented in City Hall. From Arlington to Rosebank, from Port Richmond to Sunnyside, we need to build power from within. The Northshore is our home, and we need leaders who come from the people, not politicians. Now, it's time City Hall knows us. Ranti is ready to serve as your councilman and fight alongside you to secure our future to build a North Shore for all.
Aidan Rivera
Aidan Rivera is a young Staten Island native from the North Shore. Growing up in a working class household he was no stranger to worrying about heat in the winter or visiting a local food pantry. It was through his family's struggle that he learned what can be accomplished when the community comes together.
In high school Aidan became aware of the importance of local politics. At 15 he was the victim of gun violence. He immediately wanted to do something to make a change. He worked with local representatives and then City Councilmember Debi Rose on a couple of initiatives, the Safe Zones Program and the Ceasefire Initiative, to combat gun violence and violence overall. He also became a certified Peer Mediator, helping his peers resolve conflicts peacefully.
In college he became a delegate competing in several Model United Nations conferences. This taught him about issues we all face, and how to successfully negotiate and connect with people. Then, he was lucky enough to intern with local City Council Member Debi Rose. Some of his best memories include interacting with constituents face to face and solving their concerns.
Next, he spent time at the United Nations working with a Non Governmental Organization, IANSA, to combat small arms violence internationally. This showed him how important civil society and grassroots movements really are. He learned how true change comes from the ground up, with everyday people, fighting for what we believe in and what we need.
If elected, he plans on using his skills and passion to enact necessary change. His platform seeks to address the needs of average people. Aidan will fight gun violence and income inequality and advocate for small businesses, LGBTQIA+ issues, gender equality, the immigrant population, and more. This means redefining what is considered "affordable housing" and creating more of it. It means increasing opportunities for small businesses and aiding existing businesses. Aidan will work with local, state, and federal law enforcement to curb gun violence. He will also ensure that New York City protects the civil rights of all person's.
Kelvin Richards
Kelvin Richards is a public defender who has dedicated his life to fighting for justice and standing up for those without a voice on the North Shore. Now, Kelvin is ready to bring his experience to the Council to fight for an equitable recovery from this pandemic and build a stronger, more just future here for his children and all our kids.
As a child, Kelvin and his family fled the Liberian Civil War and lived in a refugee camp for five years. After witnessing the horrors of civil war and the passionate work of the UN volunteers, he was inspired to dedicate his life to helping others. He came to the U.S. as an asylum seeker and moved to Staten Island after high school. He experienced systemic racism for the first time as he was unconstitutionally stopped and frisked by the NYPD more than 20 times.
Our communities here on the North Shore have been underserved and overlooked for far too long. Kelvin will fight to ensure that all North Shore residents have equal access to truly affordable housing, high quality healthcare, a world-class education, and good-paying jobs. On top of fighting for relief for our small businesses and working families, Kelvin will fight to address the underlying disparities that COVID-19 has uncovered, from economic inequality to the digital divide to unequal healthcare access.
Kelvin has served as the Staten Island Liberian Community's (SILCA) youngest Vice President, the General Counsel for the African Community Association of Staten Island (ACASI), and a committee co-chair for New York State Bar Association's Task Force for Racial Injustice and Police Reform. Kelvin has been active in his community, leading the fight for safer streets and improvements to local parks. He and his wife are raising their two children in New Brighton.
Michael Schnall
A 14-year veteran of New York City government, Mike started his career with the NYC Council working as a Legislative Financial Analyst, and then running the City Hall legislative office of an NYC Council Member.  Later, he served as NYC Parks' Director of Government Relations, and then the Staten Island Chief of Staff, for almost ten years during the Bloomberg administration.
Most recently, Mike served as Vice President of Government Relations & Community Investment for New York Road Runners.  He led the non-profit's efforts to strengthen community engagement strategies around health and wellness.  He oversaw a robust community investment portfolio that invested in parks and partnered with other non-profits, and Mike secured funding from City and State elected officials in support of youth, senior and community programming.
In his 20 years of working in government and with non-profits, Mike has worked on all sides of the City's budget battle and is deeply knowledgeable about how to secure the funding Staten Island's north shore needs. Mike will work to protect and improve our quality of life, with a focus on a responsive Council office that ensures constituents receive the City services they deserve. He will fight to cut bureaucratic red tape for small businesses, ensure a steady supply of COVID-19 testing and vaccines, secure more healthcare options including services provided by Health + Hospitals, and secure the dollars needed to address the inequities in our education system.
A product of the New York City public school system, Mike lives in the West Brighton/Sunset Hill neighborhood of Staten Island with his wife and two daughters.
---
If you liked this piece and want to see more like it, please subscribe.