Lack of Fresh and Healthy Food has become the Focal Point of Building a Hub for Neighborhood Solidarity
The ComeUnity Fridge approaches its second year anniversary in tackling food insecurity as food prices continue to soar.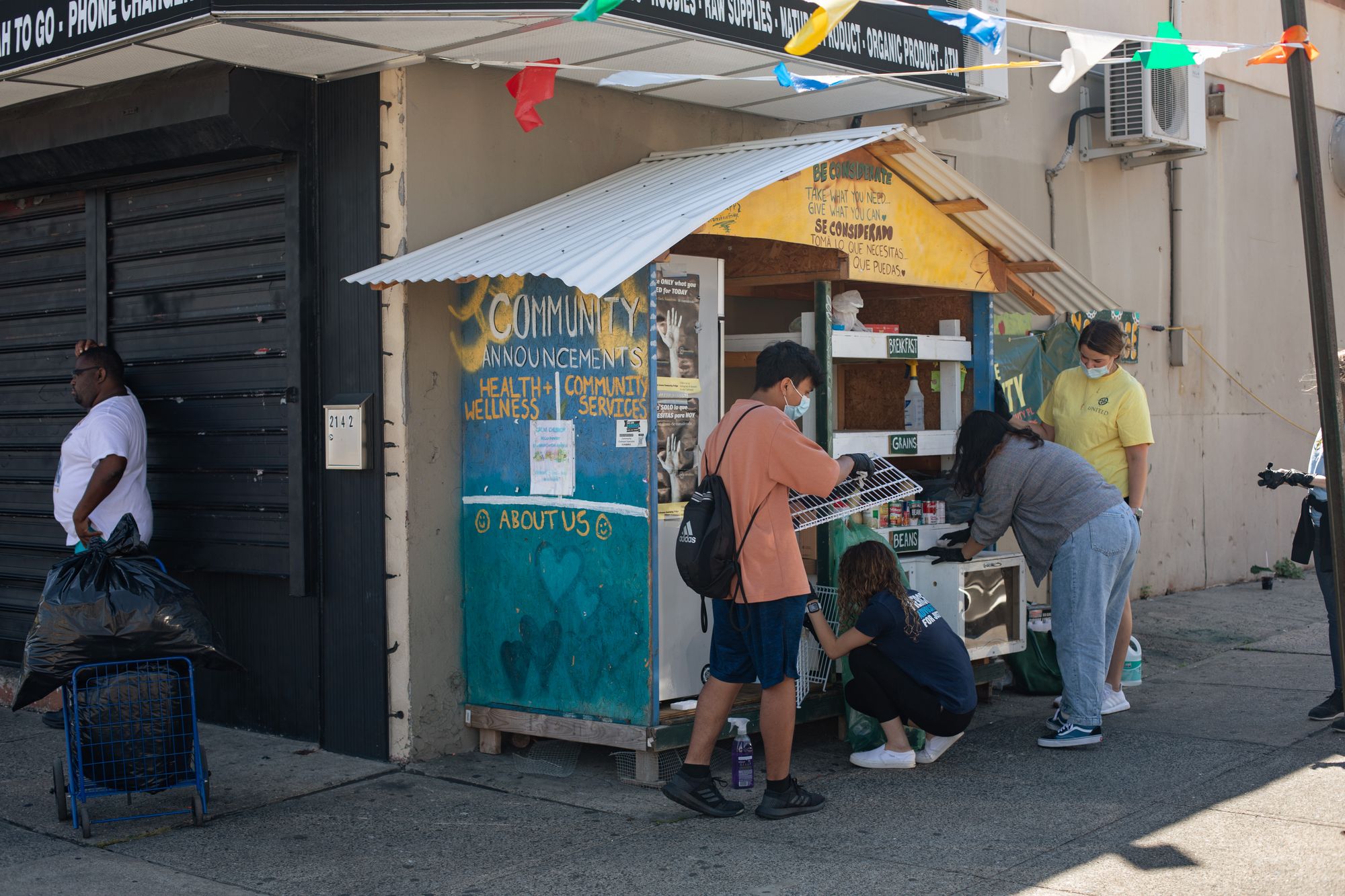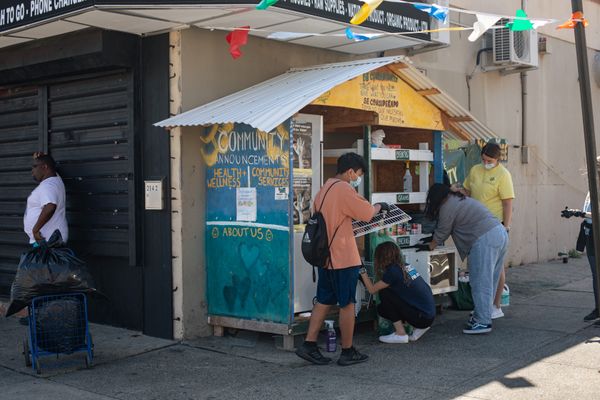 A shelter with a roof of corrugated steel, a refrigerator, and an open pantry sits atop a plywood platform just off the busy corner of Amity Place and Forest Avenue.
The collectively made structure is adorned with messages painted prominently on each side.
One above the refrigerator reads Be Considerate. Take what you need… Give what you can in English and Spanish. The refrigerator and its neighboring shelves of canned goods, grains, and produce are an opportunity for visitors to intentionally give and receive from their community. The Forest Avenue COMEunity Fridge was launched in Summer of 2020 to address a want for fresh and healthy food in the Mariners Harbor section of Staten Island, while building a hub for neighborhood solidarity.  "I feel like part of what's missing in Staten Island is community in a way that is out there, in a public view," said Alexandra Shoneyin, one of the organizers who founded the Forest Avenue ComeUnity Fridge. Maintained and utilized by a network of volunteers and community members, many of whom are young adults from the surrounding community. The Fridge has become the centerpiece of a burgeoning grassroots local food system founded upon the principles of mutual aid. Mutual aid groups organize from the grassroots, emphasize solidarity over charity, require no in-take process, nor documentation proving one's need.
Danielle DiCanio, a Graniteville resident now active with the ComeUnity Fridge, started seeing posts talking about the fridge in the summer of 2020 on Instagram from fellow Gaynor McCown Expeditionary Learning School alums that were a year younger. "I just showed up wanting to take part in supporting the project," Danielle said, adding "I missed that feeling of giving back." Called "a beam of sunshine on Staten Island" by one participant, Carolyn Devito, the Fridge depends on the continued effort of volunteers, donors, and those for whom it provides an essential good: food.
Food finds its way to the fridge from a multitude of sources; individual contributions, community organizations, and regional farms, including the nearby Mariners Harbor Houses Farm. Organizers connect scout troops, and high school students in need of community service hours with opportunities to maintain and clean the fridge. The Fridge has given individuals like Carolyn "a renewed sense of hope, not only about human nature, but also that my community can participate in something that I really believe in, which I thought they weren't even capable of doing, frankly." Local establishments are also supportive, donating food, space, and materials. "Whenever we come in [Mama Rosaria's Pizza & Restaurant] and ask them for something, they're always willing to give it," said Alexandra.
Food contributed is regularly screened for suitability to consume to ensure it is not only unexpired, but appetizing and nutritious. Community users' selections show a preference for fresh produce. Fridge volunteers regularly visit the corner to ensure the fridge is stocked and clean, both within and in the area surrounding it. Fridge volunteers provide a community face that seeks to destigmatize food insecurity exhibited elsewhere. "I think our biggest focus was not attaching a stigma to [using the fridge], but also promoting healthier habits through food because there's a lot of food insecurity," said Danielle.
The first community fridge in New York City began in February, 2020 in Bedford-Stuyvesant, Brooklyn. Since then over 150 have sprung up in the NYC metro area, according to NYC Community Fridge.
The Forest Avenue ComeUnity Fridge operates within the aforementioned  mutual aid model. The reciprocal exchange of resources for communal benefit is distinct from the traditional food pantry structure. To receive food assistance from New York City's Emergency Food Assistance Program (EFAP), one must establish eligibility and provide personal information to the NYC Human Resources Administration (HRA). Community members active with the Fridge stress that distinction from food pantries for good reason. "I think sometimes those pantries can be a little transactional, you can get food if you provide information about you so that we can get funding which makes sense, but it's that give and take relationship," said Alexandra.
The Fridge is open to all to use. There is no need to show identification, or provide evidence of need, as is the case with most food pantries. Cofounders characterize a vision that goes beyond simply providing nourishment, "the motive is we want to rebuild our community, and we want to uplift what mutual aid means," Alexandra adds.
Today the fridge and other local mutual aid efforts are even more critical as state and federal pandemic relief programs expire. Enhanced federal unemployment payments offered during the pandemic ended in September 2021, while expanded monthly Child Income Tax Credits ended in December 2021. Adding further financial pressure, New York's eviction moratorium expired in January 2022, removing protections that have kept tens of thousands of renters in their homes. These collective challenges threaten the health and safety of Staten Islanders. A project like the ComeUnity Fridge attempts to address just one area of need, transforming lives and helping build a network of mutual aid efforts along the way.
Adding to the financial pressures Staten Islanders are facing, rising food prices nationwide are further exacerbating food insecurity. The price for food-at-home, purchased from a grocery store or supermarket, is now 11.9% higher than in May 2021 nationwide, and the USDA forecasts them to increase between 8.5 and 9.5 percent further in 2022 across all categories. Poultry prices are predicted to increase between 13.0 and 14.0 percent, and egg prices are predicted to increase between 19.5 and 20.5 percent in 2022. Spending on food is often an elastic expense for households, meaning individuals often make sacrifices on their grocery budgets to ensure they pay other key essentials such as rent, utilities, and transportation.
Organizers like Danielle and Alexandra remain involved but are increasingly sharing the responsibilities with tens of other organizers. "It's emotional because it's so personal to each one of us - the same relationship that you would have with a child, but at the same time you know you have to let the child grow up," said Alexandra. As the ComeUnity Fridge approaches its second year anniversary, the Fridge has indeed grown, including a partnership with College of Staten Island social work students to expand their offerings to include clothing swaps. Importantly the community continues to show up to make sure the neighborhood is healthy and fed, indicating their mission is addressing a critical need.