Follow the Money (D-49): Final Entry
Tomorrow is the final day to vote in the Democratic Primary for District 49, Let's see how much money flowed into the race.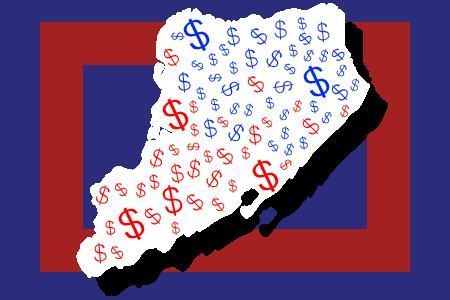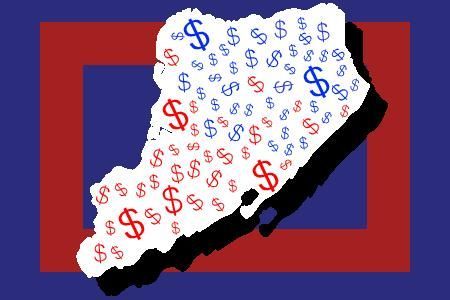 With early voting concluding on Sunday,  Tuesday, June 22, is the final day to vote for the Democratic candidate for District 49's City Council seat. So far, only 9,081 people on Staten Island have voted early. While this turnout is low, it actually mirrors citywide early voting turnout, in which 191,197 people have voted before Primary Election Day. With 172,000 people in District 49, alone, this election will almost entirely be decided by those who vote on Tuesday. In Plea for the Fifth's first edition, we discussed how campaign financing can create more opportunities for community engagement and advertising resources. With this election cycle coming to a close, we can take a look at the total amount of money donated in this primary.

With $334,820 donated to this primary, the 2021 Democratic Primary for District 49 is officially the most expensive primary, or general, election in the history of the district. Amoy Barnes has received 24 percent of all donations to this race, putting her ahead of all other candidates. Kamillah Hanks and Ranti Ogunleye trail Barnes with 19 and 14 percent of all donations, respectively.
Hanks has claimed the most money in donations ($37,355)  from Staten Islanders in this race, while Ogunleye has claimed the most individual donations (441) from Staten Islanders. Barnes closely trails Ogunleye in individual donations from the borough with 426.

Between suspensions of campaigns, and eleventh hour endorsements, a lot has affected the financial outlook of this primary as it comes to a close. Both Philippe-Edner Apostol-Marius and Aidan Rivera suspended their campaigns since the last edition of this series. Hanks' campaign has by far seen the most monetary growth since the end of March, bringing in almost $17,000 in donations in two and half months. Michael Schnall has amassed the most new donors since March, adding an extra 106 donations to his campaign. Ogunleye has kept pace by adding 95 new donations of his own. Overall, $54,556, coming from 424 donors, have been donated to this race since the end of March.

With the suspension of Apostol-Marius' and Rivera's campaigns, Ogunleye officially has the lowest average Staten Island donation ($63.67) of any candidate on tomorrow's ballot. Hanks has the highest average Staten Island donation with $143.32 (almost $60 more than the average Staten Island donation among all active candidates).

Finally, Abou Diakhate has the highest percentage of his donations eligible to be matched by the NYC Campaign Finance Board. This indicates that over 81 percent of Diakhate's donations from New Yorkers were less than $175.  

Individual Candidates

Amoy Barnes
Staten Island Director of the DOE Education Transition and College Access Center

Barnes has officially solidified her standing as the top fundraiser in the 2021 District 49 race. Within the last two months, the majority of her large donations have come from her labor endorsements. Barnes' campaign has received 11 individual $1,000 donations from the following organizations: The United Healthcare Workers East Union (1199 SEIU), International Union of Painters and Allied Trades Political Action Together Political Committee, American Council of Engineering Companies, Council of School Supervisors and Administrators, Doctors Council (SEIU), Local 6 Committee on Political Education, New York Hotel Trades Council, Social Service Employees Union, Transport Workers Union Local, and the United Federation of Teachers. In addition she also received two individual donations from one individual donor in Staten Island and another donor in Schenectady, New York. Eighteen percent of her donations are coming from outside of NYC.


Abou Diakhate
Personal Assistant to the Surrogate in the New York State Unified Court System

Of the candidates with over $500 in donor contributions, Diakhate has the highest percentage of his campaign funding coming from Staten Islanders (87 percent). Diakhate's largest donation ($250) still comes from a single donor in Staten Island.

Selina Grey
Former Campaign Manager City Councilwoman Debi Rose (D-49)

Grey is still receiving just under 30 percent of her funding from outside of Staten Island. She also has the third highest percentage of her donations coming from Staten Island (72 percent)  Her largest donations ($1,000) are coming from a new endorser, The New York State Nurses Association, and an individual in Staten Island.

Kamillah Hanks
President & CEO of the Historic Tappen Park

Hanks has solidified her position as the second-highest fundraiser of the candidates running for this City Council seat. Hanks continues to bring in the most money from the South Shore. Just under nine percent ($3,150) of her Staten Island donations are coming from the 10307 zip code, which includes all of Tottenville. Since March, her campaign has ballooned its number of top donors. The CEO and COO of The Angiuli Group, a real estate agency located in Tompkinsville, are still two of Hanks' top donors, but she has amassed multiple other donations throughout the city coming from local businesses. The president of Polar Trading, an import and export company in Queens, has donated $1,000 four times since March, Additionally, the president and director of operations at Yourewelx LLC, a company in Long Island, have each donated $1,000 to Hanks' campaign. The Uniformed Firefighters Association has also donated to Hanks' campaign twice over the course of the election cycle. Additionally, this campaign has also received nine individual $1,000 donations from individuals in Staten Island, Brooklyn, Queens, Long Island, Hoboken, NJ, and Sayreville, NJ. Cumulatively, Hanks's campaign has received 19 $1,000 donations.

David Hernandez
Councilwoman Debi Rose's Director of Constituent Services

Hernandez maintains the lowest percentage of his New York City donation eligible to be matched (31 percent). Additionally, he currently ranks right behind Hanks in terms of highest average donation ($105). Just about a third of his donations are coming from outside of Staten Island, and about 12 percent of his donations are coming outside of the city. He is currently his own largest contributor to his campaign, donating $2,000 to his own campaign.

John McBeth
Deacon at St. Philip's Baptist Church

Sixty-eight percent of McBeth's donations come from Staten Islanders. He's still his own largest donor contributing $1,000 to his own campaign.


Troy McGhie
Teacher & Basketball Coach

McGhie receives just under 30 percent of his funding from outside of Staten Island – 21 percent of his funding coming from outside of NYC. His largest donor is still a single individual from Staten Island who has contributed $1,000.

Ranti Ogunleye
Director of the Gerard Carter Cornerstone of Staten Island's Jewish Community Center

Ogunleye has solidified his third place position in fundraising for this election. He's also second in the number of donations to his campaign. Almost 60 percent of his donations are coming from outside of Staten Island. He's added one new top fundraiser since March: Professional Staff Congress (PSC) CUNY. PSC CUNY, the union representing 30,000 faculty and staff members at CUNY, and five individuals – none of whom live on Staten Island – have donated $1,000 to Ogunleye's campaign. Two individuals from Queens, one from Roswell, Georgia, one from Chicago, Illinois, and one from Birmingham, Michigan.

Kelvin Richards
Public Defender at the Legal Aid Society

Richards has the second highest percentage of his campaign funding coming from Staten Islanders (84 percent). His largest donations are now two, $1,000 each, coming from himself.

Michael Schnall
Vice President of Government Relations and Community Investment at NY Road Runners

Since March, has again seen the greatest increase in the number of new donations (105). Schnall has also increased the number of Staten Island donations to his campaign to a plurality of his donations since March. Currently, 38% of his donations are coming from Staten Island. Schnall has also claimed the third highest number of individual donors (468) for this race. Four individuals from Manhattan, Chicago, Delray Beach, Florida, and Aldie, Virginia have each contributed $1,000 to his campaign. His Manhattan and Chicago contributors are both attorneys working for Holland & Knight LLP.