St. Pat's for Everyone: How LGBTQ+ Staten Islanders are Creating More Inclusivity
The Pride Center of Staten Island's St. Pat's for Everyone event is hoping to break up the exclusive legacy of Forest Avenue St. Patrick's Day Parade.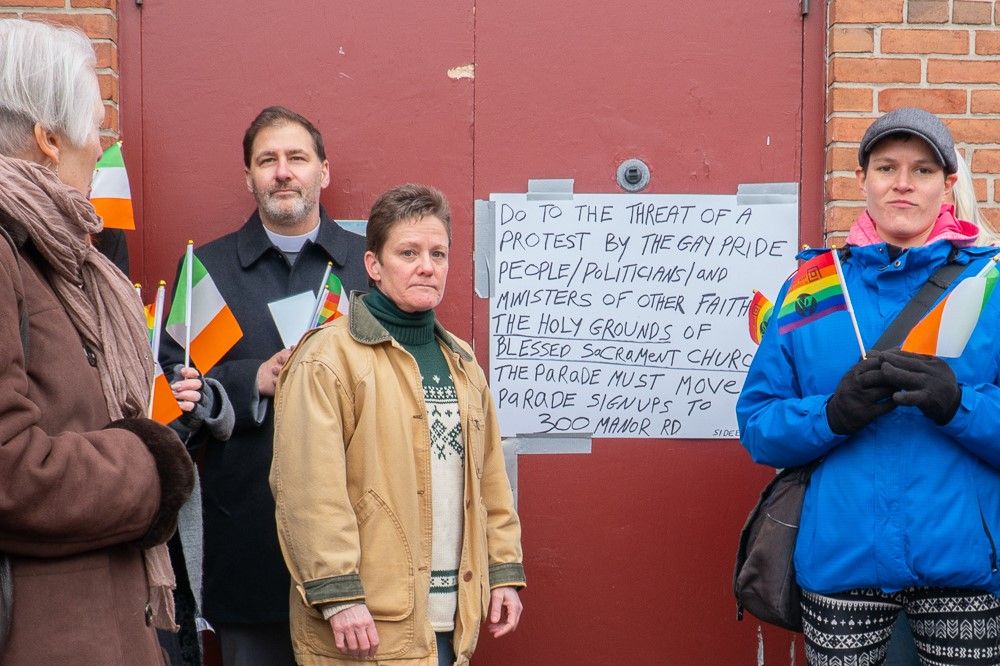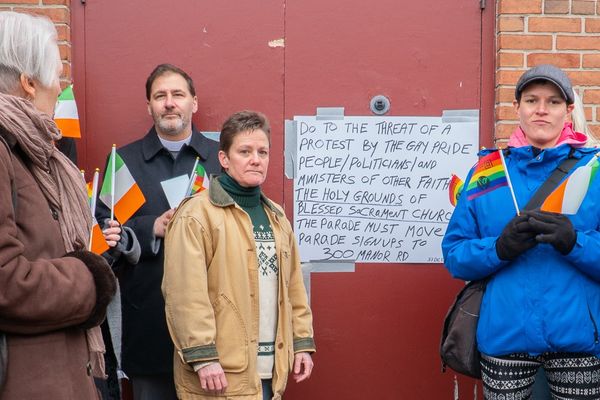 There were no official in-person St. Patrick's day parades in New York City this year as the State's public health measures still prohibit outdoor gatherings greater than 50 people. Staten Island's Forest Avenue parade, traditionally taking place the Sunday before St. Patrick's Day, was reduced to a St. Patrick's Day themed restaurant crawl leading up to the holiday on March 17. The event is typically one of the largest annual public gatherings on Staten Island, attracting "over 50,000 people per year." The group responsible for organizing the borough's official annual parade – a local chapter of the Irish Catholic fraternal organization, the Ancient Order of Hibernians –  did not organize any, in-person or virtual, 2021 programming. While safety protocols may have prevented this year's parade from taking place as usual, they also presented a chance for new opportunities.

On Sunday, March 7, the Pride Center of Staten Island hosted a virtual event called St. Pat's for Everyone. In compliance with public health measures and in defiance of the local celebration which has historically excluded them, the Center took the opportunity to celebrate the Irish cultural event on their own terms. In the absence of programming from the usual parade organizers, the Pride Center collected messages from community leaders, local businesses, and local talent in an hour-long video-parade.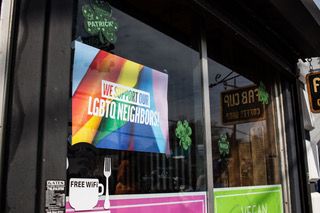 The 2020 parade, however, was steeped in controversy as the event's organizers summarily banned LGBTQ+ individuals and groups from marching. Rather than relenting to mounting public pressure, the organizers doubled down on scrubbing the procession of any trace of the rainbow Pride flag. When pressed by SI Advance reporters, parade organizer Larry Cummings explained "it's a non-sexual identification parade."
The traditionally Irish-Catholic celebration has taken on a more secular character in recent years, but its Catholic roots have been reinforced by Cummings' insistence on disqualifying LGBTQ+ representation. Despite a more accepting view of homosexuality and same-sex unions espoused by Pope Francis, Catholic aversion to LGBTQ+ inclusion has been reinforced by the Vatican's recent statement against blessing same-sex unions. LGBTQ+ groups have, however, been allowed to march in the large Manhattan parade since 2014.
Carol Bullock, Executive Director of the Pride Center, actually agrees with Cummings. She highlighted that the St. Patrick's Day parade is not a LGBTQ-centered celebration, but rather a chance for the Pride Center to join in on the fun and advertise their services for the Island's queer population. Looking back on the year since the pandemic first affected New Yorkers – roughly coinciding with the holiday in 2020 – Bullock noted an upward trend in requests for mental health services from the Pride Center. Requests have nearly doubled in recent months. She explained that the Center's "counselors are at capacity," and that both LGBTQ+ youth and seniors were at particular risk for isolation, even before shutdowns began.
To prevent isolation the Pride Center hosts a flurry of weekly virtual events that keep LGBTQ+ Staten Islanders connected. The March 7 event was no different, and live streamed speakers and performers from across Staten Island and throughout the city.
Kicking off the event was an introduction by Bullock. Her introduction was followed by a message from Brendan Fay, the Irish-immigrant activist who founded the popular and long-standing, Queens-based, LGBTQ+ inclusive celebration, St. Pat's for All.
Among other appearances were Irish-style dancers from Mrs. Rosemary's Dance Studio, blessings from religious leaders Rev. Baker from the Episcopal Church of the Ascension and Rabbi Michael Howald, along with a performance from Temple Israel's choir. District Attorney Michael McMahon made an appearance, as well as other politicians like Kathy Hochul and Jumaane Williams. There were performances from the St. George Theater, the Port Richmond Highschool Band, and others. LGBTQ+ political group, the Stonewall Democratic Club of NYC, presented, and there were shout-outs from Brooklyn Pride and Queens Pride. Local businesses like Wicked Stitches, The Burrito Bar, the Nicotra family also sent messages of support and celebration.
Throughout the event comparisons were made between the struggles of working class Irish immigrants at the turn of the 19th century and the discrimination LGBTQ+ people face today.  Bullock has drawn parallels between the infamous "No Irish Need Apply" clauses found in late 19th century classified ads to the stonewalling she faced simply trying to apply for the Pride Center to march in the 2020 parade. These comparisons were followed by a resounding call for inclusivity.
St. Pat's for Everyone is not the first time LGBTQ+ Staten Islanders have organized their own St. Patrick's Day celebration. Rainbow Run Staten Island, a marathon event in solidarity with LGBTQ+ Staten Islanders who were excluded from the parade, also went virtual this year. Starting in 2012, Staten Island's Young Democrats have been part of an effort to bring LGBTQ+ representation to the Forest Avenue St. Patrick's Day Parade. The Young Democrats got involved after the Pride Center's application was first denied by the Staten Island chapter of the Ancient Order of the Hibernians. This pattern that would repeat itself for the next eight years.
In 2017, just seven people participated in a Rainbow Run event along the parade route on the Forest Avenue Mile, from Hart Boulevard to Hamlin Place. This event was done in partnership with the Staten Island Athletic Club, and had runners decked out in rainbow colors before the parade. According to co-founder KC Hankins, by 2020 they "had hundreds of people running down Forest Avenue." He added that "it [was] a positive, love-sending message." Runners handed out thousands of rainbow flags, a sight which later greeted the official St. Patrick's Day procession.
This act of joyful resistance had been met with overwhelming community support. Nearly all Staten Island politicians refused to march in the official 2020 parade. At the time, current U.S. Representative Nicole Malliotakis was one of the only local politicians to join in the LGBTQ+ exclusionary parade.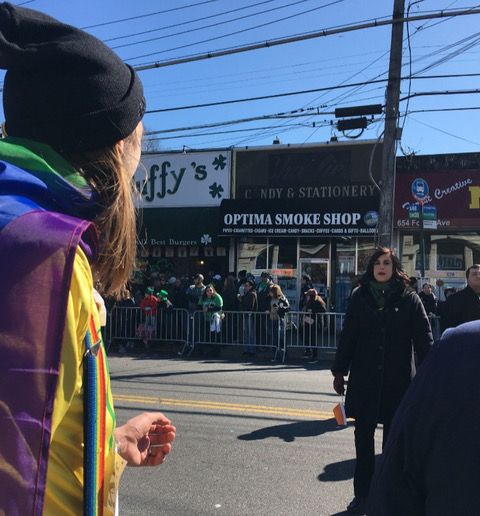 The Forest Avenue St. Patrick's Day Parade has become the battleground for Staten Island's LGBTQ+ representation. Talking about the ban on marchers from the Pride Center, Hankins suggested that that if there was even greater solidarity among community groups and leaders, Staten Island would make its St. Patrick's Day parade into an inclusive, loving celebration.
"If we wanted to make this stop, we would make this stop," he said.
For many, the Rainbow Run, St. Pat's for Everyone, and continued strong community support are all evidence that Larry Cummings and the Ancient Order of the Hibernians are outnumbered.
---
Cover Photo: On Twitter the Pride Center of Staten Island posted, "Yet again the AOH Parade Committee denied the Pride Center of Staten Island's request to march in the SI St. Patrick's Day Parade, and this year they also declined @GOALny #StatenIrelandPride" on Feb. 16, 2020.
CREDIT: Steven Wakeman—Pride Center of Staten Island via Twitter